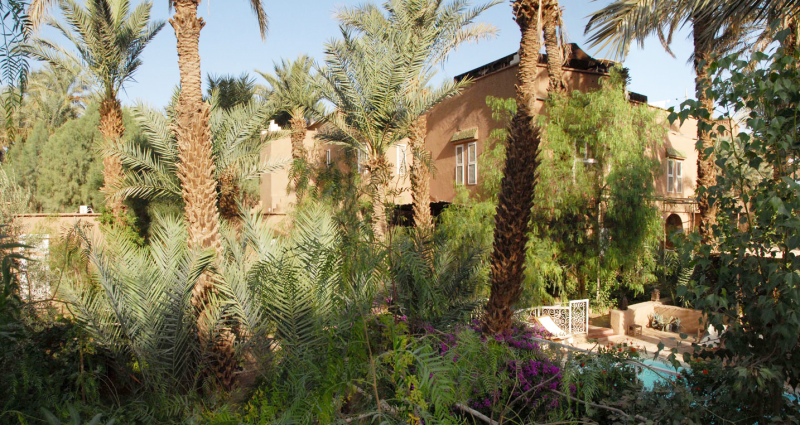 PRIVATIZATION OF VILLA ZAGORA RIAD
FOR

A WEEK OR A LONG WEEKEND

The spacious size of the Villa (500 m2), plus its 800 m2 of garden space provides great capacity for group hospitality. Twelve adults ( + five with extra beds ) can be accommodated in double or twin rooms with bathrooms. The Berber tent installed on the terrace of the house , with its outdoor lounge, offers an additional 6 beds.

The Riad provides a wonderful level of comfort, quality service and charm.
Accommodations at the Riad Villa Zagora
• Two suites:
The Palmeraie twin suite (with two extra beds)
The Garden double suite
• Four bedrooms :
The twin Honeysuckle bedroom (with an extra bed )
The twin Bougainvillers bedroom (with an extra bed )
The double Hibiscus bedroom
The double Jasmine bedroom (with an extra bed )
• The Berber tent on the terrace with its six beds can be converted into a meeting room, dining room or dormitory ( price depending on the number of occupied beds)
Rates
High season prices
two suites + six double rooms in BB for 12 adults:
By the week : 7 nights in a double room in BB: 2800 euros
Each extra bed : 18 euros
+ 6 beds in the Berber tent on BB : 700 euros
For a 4 day weekend ( Wednesday to Sunday ) : 1600 euros
+ 6 beds in the Berber tent on BB : 400 euros
For a 3 day weekend (Thursday to Sunday) : 1200 Euros
+ 6 beds in the Berber tent in BB: 300 euros
Low season prices
: 30% discount on high season prices
By the week : 7 nights in BB : 1960 euros
Each extra bed : 13 euros
+ 6 beds in the Berber tent in BB : 600 euros
For a 4 day weekend ( Wednesday to Sunday ) : 1120 Euros
+ 6 beds in the Berber tent in BB 280 euros
For a 3 day weekend (Thursday to Sunday): 840 euros
+ 6 beds in the Berber tent in BB 190 euros